Service Centre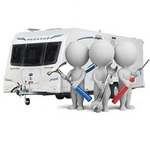 General Repairs & Maintenance
Our experienced team has every area covered, whether you have an appliance fault, general maintenance or an insurance repair - UK Caravans can help! Our workshop team includes coach builders, mechanics, an auto electrician, plumber AND we can do you're electrical & gas work too! Being authorised insurance repairers, and with a store full of replacement parts & accessories, you can be sure you're in the right place
$110+GST/hr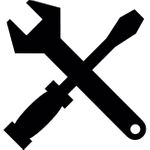 Full General Service
Full check of all equipment and appliances, internal & external. Servicing of towing & chassis equipment included (Includes one shot nuts for breaks). $695 single axle or $795 tandem axle. No extra repairs will be carried out unless approved by owner. Service sticker will be applied to draw-bar once serviced. Check list and notes provided.
$695 - $795
Chassis & Towing Service
General service of all towing equipment, draw-bar, brakes etc. (Price includes one shot nuts for breaks). $395 single axle, $445 tandem axle. Towing services should be done once a year. No extra repairs will be carried out unless approved by owner. Service sticker will be applied to draw-bar once serviced. This is not your WOF.
$395 - $445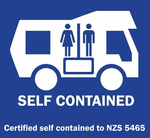 Self Containment Conversion & Certification
Authorised Self Containment officers here! All plumbing parts provided, converted and certed from start to finish on UK caravans. Tanks not included. Processing fee applicable for non NZMCA members $40.00. Recertification (4 yearly) also available. Base cost is for UK caravans with the standard 28mm pipes. Some UK caravans from the early 2000's or earlier may have 23mm pipes and may incur further costs to convert to the minimum size required for self containment regulations.
$565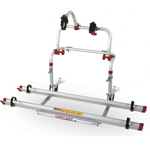 Bike Racks
A range of bike rack carriers are available. Rear mounted bike racks and front A frame racks. A maximum of 2 bikes can be carried on the front or rear. Rear racks not suitable for E-Bikes. Price ranges depending on rack. Not all caravans can have rear or front racks installed, please get in touch to discuss options for your caravan. Always be aware when considering front bike racks that this can reduce your turning circle
$895 - $1095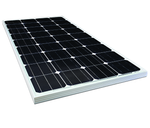 Solar
Monocrystalline roof mounted solar panels are our go-to, available from 150w to 175w as standard. More options available upon request. Supplied & fitted, all parts included. Standard fitment includes the MPPT controller. Our panel installation method has proved the test of time, and installation is guaranteed.
$995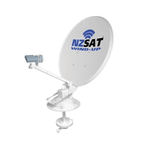 Satellite Dish
A range of satellite dishes are available for supply and install. 40cm-60cm and manual (wind up) or automatic. Please get in touch to discuss options. Prices range depending on the satellite dish. Standard fitment prices are for UK caravans and include the cost of removing the original UK dish. Some pricing may vary if your caravan does not have an original dish and cables.
$1695 - $3095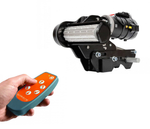 Motor Movers
A range of motor movers are available and we keep a selection on hand. Price ranges are per axle, and for manual engage (wind on) or auto engage. Tandem axle installations also available. Fitted price applicable to UK caravans only, if your caravan has on board tanks there may be further cost to move any tanks in the way. Speak to our team to discuss options suitable for your caravan. If the maximum weight of your caravan is near the maximum weight of the motor movers, we recommend having your caravan weighed to avoid any suprises once the movers are installed.
$2395 - $3295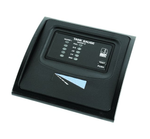 On Board Tanks
On board fresh & grey water tanks are made to measure per caravan. Our standard size is 100L fresh and 120L grey although some caravans may differ and sizes can be changed if desired. The fresh water tank is fitted with an on-board 20psi pump and the grey tank is fitted to self containment regulations. Self containment certification is included when both fresh & grey tanks are installed. Our tanks are underslung and fitted with custom aluminium bars. On board tanks should not be full whilst travelling. Tank monitors are available, and are not included in the standard base cost. Base costs are for UK caravans only. If you do not have a UK caravan and would like us to install tanks, please contact us to discuss expected costs. 120L grey tank supplied & fitted is $1795. 100L fresh tank supplied & fitted is $1995. Both fresh & grey tanks fitted is $3495.
$1795 - $3495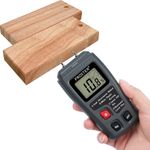 Damp Report
Testing is done using two methods, we use an infrared camera which takes images as well as a moisture meter. All noted onto a full report for you to keep with a guide explaining what is normal and what is of concern. If an area of concern is found, we have coach builders at the ready to fully assess the damage and advise/repair. Moisture meters only show current dampness which means this method alone is not accurate enough to find any historic dampness & rot. Although no one method alone is accurate at finding historic damage, rot can be present even if it does not show via the moisure meter as it can dry out. This is why our expert team know exactly what to look for and use this combination of checks to give you peace of mind.
$195 - $295